Onsen (温泉) = Hot Spring in Japanese language, though the term is often used to describe the bathing facilities and inns around the hot springs. As a volcanically active country, Japan has thousands of onsen scattered along its length and breadth. Onsen were traditionnaly used as public bathing places and today play a central role in directing Japanese domestic tourism. (From Wikipedia)
First night at Noboribetsu Spa Hotel Mahoroba, was so in dilemma of going or not to the Onsen. Been thinking for weeks before stepping my foot on Hokkaido.
Naked.. in the pool.. (>.<) .. its kind of hard for a Malaysian proceed with this action, friends were making fun of this topics. LoL ..
Well, tonight, I am here, I told myself, no matter how, after 7hrs flight to here, I MUST DO THIS !
Lets do it !! Just do it !!!
Yukata (浴衣) was ready in the hotel room, didn't take any photos here.. for explanation, this is how yukata looks like ~
Dressed in Yukata, its an option for you to wear or NOT to wear anything (yea.. ANYTHING) underneath.
Approaching to the Onsen, felt so excited yet felt so scared, what will I see? how should I act?.. (>.<) *NERVOUS*

Stepped in, its a changing room, a big one, filled with cabinets with basket for you to keep your belongings, there's no locker, everybody leave their stuff just like that.


And the next thing I see.. people .. just.. take.. OFF.. their yukata, and then.. walk around barely ! O_O.. eventhough this was expected, but the feeling was still..weird.. (>.<)..
So, okay.. I'll have to do the same too.. Luckily, I did bring a big towel and a face towel. Wanted to find a basket which is not so expose, but it seems like all the same, everyone can see everybody.. T_T .. so, ended just simply choose a basket, leave my yukata there, and quickly cover with my big towel.
There's another door to go through to the onsen pools, an automatic sensor door. Once the door opened, steamy air has filled the whole body, felt stuffy, and I was wearing my spectacles, its totally covered, can't see anything clearly. Then I cleared off some of the steam on my spec, and the scene was like.... WOAH ~ "bodies" were everywhere ~ (till here, still feel weird! gosh.. am i not suppose to be here?)
It's like a big bathroom, there are shower facilities provided with shower gel, shampoo, etc. EveryBODIES sitting down to clean off themselves before entering to the onsen pool. I've to do the same too (its the rules, gaaaahh~ this time gonna do it for real), the shower area is totally exposed, not even a partitions in between, any kind of bathing pattern were in action here. (gaaahh~ i still couldn't accept it! (>.<) weird la ! mama said can not peek people bathing! but now... )
Geeezz.. die die have to do the same, sat down and simply, quickly rinse off, quickly covered with towel again and quickly walk to find pool, there are many indoor pools, some whirlpool, and 2 outdoor pools, I walked pass all the indoor pool, almost all with "BODIES" in there, then passed another auto-sensor door, here reached the outdoor pool (finally can feel some fresh air), and there's nobody in the pool, then I quickly, carefully walk in and sat in the pool (feel safe when hide inside water, LoL ~)
Finally ! I did it ! hahahahhaha ~
Aaaahhh ~ it's so relaxing.. oh yea.. I like hot bath!
Outdoor pools
Indoor pools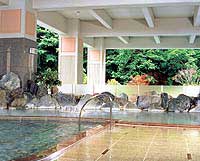 I sit still in the pool, still not used to be bathing outside with so many peoples. But others were so enjoy, some are families, they had fun, running from one pool to another. As for me, just sit still in one pool till the end... LoL!
Not sure how long I've been sitting in the pool, till I felt really hot and sweaty, then it's enough. Then again, quickly get up and wrapped up, head to the shower, again simply rinse off, done! LoL !
Dressed in my yukata again, have some cold water and sat there rest for a while. In the changing room, hair dryers, combs, body lotions, face lotions are provided too. I didn't use those as there were really many "BODIES" in there.. LoL !
It was really good.. its like .. "Wow ! what's an experience !" hahaha ~
till then..
ONSEN! I LOVE IT !!!
*note : all photos extracted from internet*